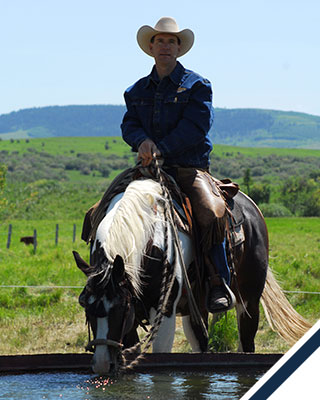 We understand that for many people, ranching is a way of life, and individual lifestyles are unique. We don't subscribe to a "one-size-fits-all" model, so every agreement we enter into is tailor-made to suit your desires and circumstances.
Having said that, we have identified five common situations that provide an opportunity for us to give examples of some of the options we offer to Ranchers. We encourage you to call us to discuss your situation personally, and how we might help.
Increasing Complexity and Need for Specialized Knowledge and Skills
Ranching has becoming increasingly complex and it's difficult to keep up with all of the speciality areas now involved in the industry. Genetics, agronomics, regulatory compliance, and subsurface resource management, not to mention financial planning, expansion and maintenance costs – it does get complicated and who has time to learn all of this and still run the ranch?
That's where we come in. Western Ranchlands has a team of experts with varied backgrounds, all of whom bring specialized knowledge to make each of our partner ranches more profitable and more sustainable over the long term.
Expansion is Too Costly
You want to expand, and you know that a larger operation would be more efficient and profitable, but where do you get the upfront cash? Western Ranchlands has several business models available that assist existing landowners to expand operations without incurring debt.
Multiple Owners with Changing Needs
Many ranches are owned by multiple individuals whose interests and life plans have changed over time. Problems can occur when the need for cash and the desire to sell differs from one owner to another. This can occur in the normal course of any relationship and often happens following the death of a family member or a divorce.
Western Ranchlands can assist landowners who wish to replace or buy out a partner. In addition, we have well-established decision-making processes and property management agreements that can be used to simplify the process on our partner ranches.
Desire to Sell
Finding a buyer for your ranch can be difficult, and not knowing what will happen to the land after you sell, makes the process all the more stressful.
Western Ranchlands purchases ranch properties for a fair price and you can be comfortable knowing that your land will be managed for the long term in a healthy, conscientious manner.
Take More Time Off or Retire
You don't necessarily want to sell, but you do want to retire, or at least cut back on your workload. Western Ranchlands can assume management of your ranch while you still own it. We'll sit down with you to develop an agreement that allows you more free time while we take care of business.
These are just a few examples of the many different options we offer, and we welcome your inquiries about developing a plan that suits you.